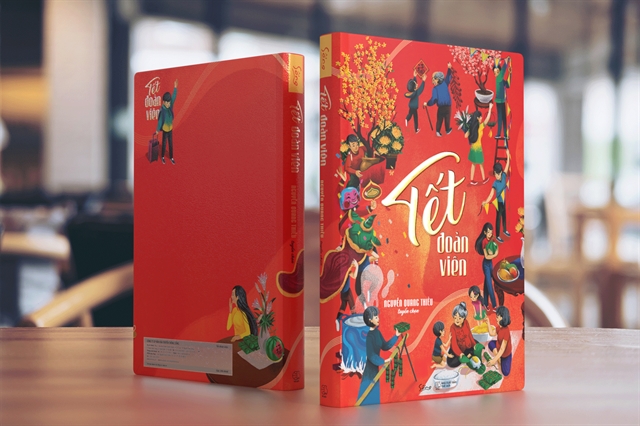 HCM CITY — Vietnamese publishing houses have released new books to celebrate the Tết (Lunar New Year) festival, the Year of the Mouse.
Đông A Books has issued Sách Tết Canh Tý 2020 (Book for the Year of the Mouse 2020) compiled by writer Hồ Anh Thái.
The book includes interesting stories, poems and songs about Tết and mice, such as Mèo Chuột: Một Mất Một Còn (Cat and Mouse: One Dies, One Lives) by Quý Hiển, and Tượng Đài Văn Chương (State of Literacy) by Đăng Bảy.
It also has illustrations by painters Thành Chương, Lê Trí Dũng, Đỗ Phấn and Đặng Tiến, among others.
Hoài An, a representative of Đông A, said her company consulted cultural experts and researchers to make Sách Tết Canh Tý 2020 a high-quality work.
Tết Đoàn Viên (Gathering in Tết), a publication of the Alpha Books Joint Stock Company, features stories and memories about Tết told by Vietnamese writers and celebrities, such as journalist Phạm Công Luận, cultural researcher Nguyễn Hũng Vĩ, and MC Thảo Vân.
The book was compiled by writer Nguyễn Quang Thiều, director of the Writers' Association Publishing House.
Trần Thị Ngọc Hương, a representative of the company, said that Alpha Book focused on the design and appearance of Tết Đoàn Viên to make it a meaningful gift during the holiday.
The Kim Đồng Publishing House has released Nhâm Nhi Tết (Enjoying Tết) which contains short stories about the holiday and the spring written by well-known writers Trần Hoài Dương, Lý Lan and Thụy Anh, among others.
Author Thiều said: "The appearance of many books for Tết is a good sign. People will have a chance to learn more about Tết."
The books highlight Vietnamese culture, cuisine, customs, and relationships in family and society. They help to promote traditional Vietnamese cultural values among generations, especially youth.
"Tết is the time when people return to their origin and family," Thiều said.
All three books are available nationwide at bookstores and on e-commerce websites. — VNS