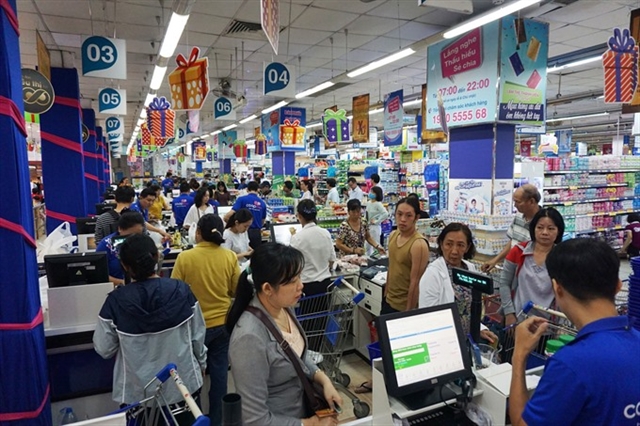 HCM CITY — HCM City authorities are working with local businesses to ensure supply of essential goods under the city's market stabilisation programme for the Tết (Lunar New Year) holiday.
Under the market stabilisation programme for the year, essential foods include 10 commodity groups. These goods normally account for 25-30 per cent of market demand, but in the months prior to and during Tết, the figure rises to 30-40 per cent.
Trần Duy Đông, director of the Ministry of Industry and Trade's Department of Domestic Market, said it would ensure supply of essential goods in the last months of the year and during January. The holiday falls on January 25.
Đông, however, pointed out that the supply of essential goods and stabilised prices are "ensured at supermarkets, but prices at traditional markets are not".
The ministry will also closely monitor changes in supply and demand, and will oversee enforcement of regulations on price registration, price declaration and price management.
In addition, the ministry will focus on prevention of smuggling, trade fraud, counterfeit and fake goods, and poor quality goods in an aim to protect consumers and legitimate businesses.
Phạm Thành Hưng, director of Ba Huân Joint Stock Company, said the company was preparing goods to secure sufficient supply for the market at the end of the year.
It has opened an 18-ha farm with a capacity of 1 million chickens and a 34-ha farm with a capacity of 5 million chickens. 
Nguyễn Đăng Phú, deputy CEO of Vissan Joint Stock Company, said the company had signed contracts with suppliers to ensure sufficient supply of pork for the holiday, and that production of processed products for Tết was at its peak. 
Due to the impact of African swine fever, pork supply has been greatly affected, but the company said it would maintain supply, he said. 
Saigon Co.op, which provides essential goods in 10 product groups in the price stabilisation programme, has organised capital supply for satellite enterprises to prepare goods, and its suppliers have also prepared for the holiday. 
City efforts
In October, HCM City began preparing for the Tết holiday by increasing reserves of pork as well as other meat alternatives for pork with promotion and discount activities. 
Nguyễn Huỳnh Trang, deputy director of the city's Department of Industry and Trade, said the city has taken steps to ensure pork supply in January.
Since the beginning of the year, the city has been carrying out measures to maintain supply of essential goods for the market.  
In the past 10 months, the market prices of essential goods have been fairly stable, and there have been no shortages of goods or sudden hikes in prices, Trang said. 
For the pre-Tết and Tết period (from Dec 26 to Jan 24), the total value of goods prepared by enterprises will reach more than VNĐ10.22 trillion, she said.  Enterprises participating in the price stabilisation programme have promised not to raise prices in the month before Tết or the month after the holiday. 
The price of pigs remains fairly high, fluctuating from VNĐ52,000 – 60,000 per kg, as demand to export pigs to China has increased. 
Phạm Thành Kiên, director of the Department of Industry and Trade, said the city would not interfere in price policies but instead would allow normal supply and demand in the market to dictate prices.  
Demand for pork in the city is about 10,000 pigs per day, and on the occasion of the Lunar New Year, it rises 1.5 times higher than normal. — VNS