VietNamNet Bridge – Although Thai Kim Lan gave birth to her only daughter in Germany, she always connects it to the food, customs and smells of the motherland.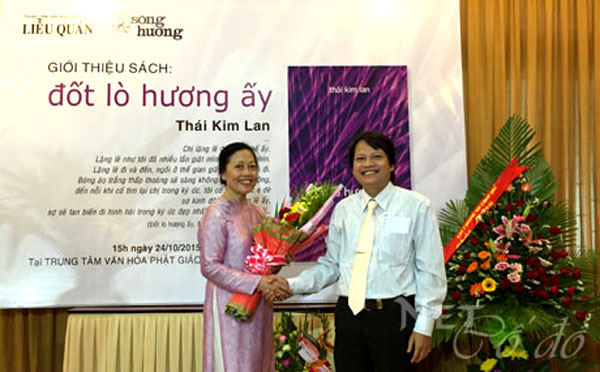 Thai Kim Lan. – (Illustrative image – Photo: Net Cố Đô)
The daughter, Mai Lan, grew up in a bamboo cradle and fell asleep with village lullabies, like millions of Vietnamese children. She is not far away mentally from her distant home at any time of the day. Little Mai Lan doesn't speak Vietnamese frequently, but when she does speak, it is in the Hue dialect.
"I preserve the dialect to remind me where I was born. I want my daughter to be proud of her origin."
Kim Lan earned a doctorate degree in philosophy at the Ludwig-Maximilian University in Munich in 1976. She taught there until 2007 as a private lecturer in comparative philosophy.
In 1994, she returned briefly to teach in HCM City and Hue. She has written publications on philosophy, cookery, essays and poems and translated texts by German authors and poets.
Her house in Germany is built in the Vietnamese style and decorated with Vietnamese furniture. She also has set up an altar with a wooden bell, Buddhist scriptures, incense and a statue of Bodhisattvas. Lan spends several hours every evening reciting holy books.
Kim Lan often wears ao dai (Vietnamese traditional long dress) with a golden necklace like a Hue woman of ancient times.
"I want to preserve national art and culture and develop it in a way that will be everlasting," said Kim Lan.
"I have lived in Germany for a long time and been imbrued with Western culture, but I decided to raise my daughter as a traditional Vietnamese woman."
Kim Lan began singing Vietnamese folk songs for her baby during pregnancy. When her daughter was born, she was breastfed, and learned Vietnamese. She also learned the soft manners and household arts of Hue people. 
Kim Lan said teaching the mother-tongue to children abroad was the most important thing to link them with their roots.
Hoang Ngoc Dong An, a mother of two girls living in Switzerland, agreed. "If the children don't speak Vietnamese, they won't understand the culture and history of their mother country," she said.
An believes that language is like a wire connecting people. Love starts from understanding and sympathy. So, she wants the children to understand Vietnamese language then love the country and its culture.
Her daughter Camilla Thy Thy and Annalisa Ly Ly can speak English, Italian and Vietnamese. Teaching them three languages at the same time is not easy. They only have an opportunity to speak Vietnamese with their mother.
"I'm so serious in teaching them the mother-tongue," said An. "I never mix other languages with Vietnamese while talking to them."
An told their daughters that they need to learn Vietnamese to talk to their grandparents in Viet Nam. And when she feels upset, she really wants to share everything in the mother-tongue.
"Luckily, my daughters understand and they agreed to learn Vietnamese seriously," An said.
Beside language, An also tried to create a Vietnamese environment at her home, such as telling tales, singing folk songs, celebrating Vietnamese festive days, cooking traditional food and having meals in Vietnamese manner.
"My husband and I bring the children back to Viet Nam at least once a year with the aim of them absorbing Vietnamese culture," An said.
"No lesson is better than real life experience."
Vietnamese people have moved to many countries around the world. In the  Ukraine, the Czech Republic and Laos, they organise many classes in Vietnamese language and celebrate traditional festivals such as Lunar New Year, Vu Lan (the annual Buddhist event that eulogises motherly love, held in the seventh month of the lunar calendar) and Mid-Autumn festival.
Vu Thi An Binh in Odessa, said mothers played an important role in preserving and promoting Vietnamese culture and identity abroad because they took the main responsibility in raising and teaching children.
"My husband respects my origin and language, though he's not good at Vietnamese, he always tries to understand when my children and I talk in Vietnamese," said Binh.
"He's also interested in Vietnamese food and helps me practise Vietnamese traditional customs." 

Minh Thu

VNS