Vietnam's development plan for the leather and footwear industry by 2025 with a vision towards 2035 needs to change, according to the Ministry of Industry and Trade (MoIT).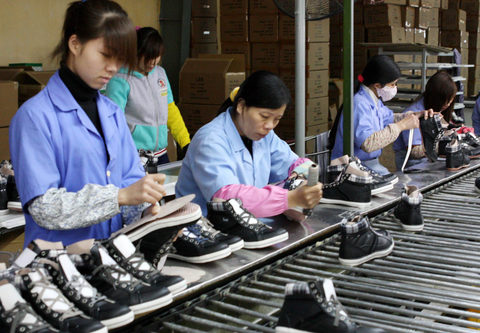 Ha Tay Chemical Weave Co workers make shoes for export, mainly for the EU and the US.
The change was required to increase the value of Viet Nam's leather and footwear products and reach sustainable and high growth in development, the ministry said.
The plan will review development over the past five years to determine the potential and advantages of the leather and footwear industry as well as the challenges faced by the industry until 2025 with a vision towards 2035.
Phan Chi Dung, head of MoIT's Light Industry Department, said according to the revised development plan, the industry must ensure development with high growth rate and remain one of the key export industries in the domestic economy.
Growth rate of the leather and footwear industry's industrial production value will reach 11.62 per cent per year during the 2016-20 period and 8.87 per cent per year during the 2021-25 period, an increase of 2.82 per cent and 0.76 per cent, respectively, against the industry's development plan approved in 2010. The revised plan will add the target of 6.04 per cent per year during the 2026-35 period.
In addition, it would strive to achieve an annual export growth rate of 10-15 per cent during the 2016-20 period, 8-9 per cent in the 2021-25 period and 4-5 per cent in the 2026-35 period, with export revenue expected to reach $24-26 billion by 2020, $35-38 billion by 2025 and $50-60 billion by 2035.
The plan also targets to raise the local content rate of footwear products to 45 per cent by 2020, 47 per cent by 2025 and 55 per cent by 2035.
Development
For the master development plan until 2020 with a vision to 2025 for Viet Nam's leather and footwear industry, which was approved in 2010, Nguyen Manh Khoi, deputy director of the Leather and Footwear Research Institute, said after five years of implementing the plan, the Vietnamese leather and footwear industry has developed strongly and made positive contributions to the country's economy.
This development was due to the transfer of leather and footwear production to countries with cheap labour cost such as Viet Nam, investment incentives and advantages from free trade agreements, Khoi said.
Over the past five years, Viet Nam had become an attractive and important destination for foreign investors of the leather and footwear industry, contributing significantly to development of the domestic leather and footwear industry, he said.
Some targets set out in the master plan had been implemented satifactorily, such as essentially completing the equitisation of State-owned enterprises, forming joint ventures and cooperating with all economic sectors, which had created conditions for businesses in the sector to thrive.
The sector had invested in upgrading equipment, building new large-scale plants with advanced equipment and technology to raise the production capacity for the sector, he said.
In addition, most of the companies had applied a management system in accordance with ISO 9000, ISO 14000, SA 8000 and undertaken corporate social responsibility projects.
However, some targets had not been accomplished, he said. For instance, the local content rate of products remained low at some 35-40 percent, he said, adding that the number of enterprises applying automation in designing and developing products was also modest.
Other targets, including the restructure of products and development of specialised industrial zones for the sector, especially leather tanning, had not been achieved, he said.
Meanwhile, the domestic footwear industry was facing technical barriers from importing countries and customers in the global market, along with a lack of social responsibility on environment protection and inability to ensure welfare of labour. 
These had created difficulties for the industry and increased production cost of enterprises.
Further, Vietnamese firms mainly had processed footwear products, which limited efficiency and dynamism. 
At present, the value of Viet Nam's leather and footwear industry, which mainly gained from processing products, accounted for 25-30 per cent of the value chain, even as significant value came from design, brand and distribution of products, in which Vietnamese enterprises had many limitations, Khoi said. 
Additionally, domestic enterprises lacked capital, advanced technologies and highly skilled technical staff and had low ability of management, he said.
Moreover, some local enterprises had not actively approached export markets and undertaken the processing of export products via intermediaries, therefore efficiency of their production and business had reduced and they were often dependent on customers.
The industry had not developed synchronously between the manufacturing of raw materials (tanning) and footwear. 
It still had to import many raw materials and auxiliary materials, especially the material to make the upper part of shoes.
Khoi said the machine manufacturing industry in Viet Nam was not capable of producing machinery, equipment, molds for leather and footwear production, therefore local enterprises were forced to spend a lot of money to import machines and spare parts. 
This was one of the factors leading to low labour productivity of the Vietnamese footwear industry, according to Khoi. 
VNS