(VOVworld) – At the age of 76, People's Artist Chu Thuy Quynh still has a passion for dancing, and still inspires young dancers. Quynh received the Ho Chi Minh Award of Literature and Art for her contribution to Vietnamese dance.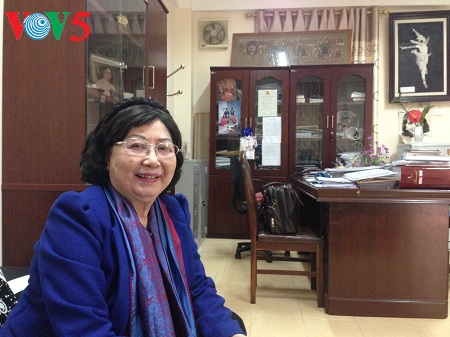 People's Artist Chu Thuy Quynh (Photo: Ngoc Nga/ VOV)
Choreographer Chu Thuy Quynh was born in Hanoi. She began her dancing career at the age of 14. In the 1960s and 1970s, Quynh performed in such dance dramas as "A mother in the Southern region", "The birds and the sunlight", "The call of the homeland", and "Following the liberation flag". Those performances brought her many honorary titles and prizes at a very young age. She even performed for President Ho Chi Minh. At the age of 28, Quynh became Vietnam's youngest National Assembly deputy and held this position for four terms. In 1988, she was awarded the title "People's Artist". Ms. Quynh recalled: "I have pursued dancing for my life time and this career has brought me a glorious life. I was very lucky to meet President Ho Chi Minh. That is an unforgettable memory and experience for an artist".
Ms. Chu Thuy Quynh is now President of the Viet Nam Association of Dancers.Despite her age, Quynh is still passionate about her career. People's Artist Xuan Hoach is Quynh's colleague: "At the age of 70, Quynh is still enthusiastic and passionate about work. She is an example for younger generations to follow".
Quynh is a talented choreographer and dancer. She has served as director for big events such as the ceremony to mark the 100th birth anniversary of President Ho Chi Minh, National Party Congresses, the Francophone Summit, ASEAN Summits, and the opening and closing ceremonies of the 22nd SEA Games in 2003. Ms. Quynh said: "I am keen on traditional dances. I have traveled to many localities to study the dances of ethnic minority groups, and have then combined them with contemporary dances".
The recent Ho Chi Minh award is the latest recognition of Quynh's tireless efforts to promote Vietnam's dance art.
Ngoc Nga