Huong (Perfume) pagoda is well-known as not only a religious site, but also a great sight-seeing spot in the country. During its festival, the nation's most elaborate one, which lasts from the beginning of January to the end of March of the lunar calendar, the pagoda attracts millions of pilgrims and visitors.
Huong pagoda is located in Huong Son commune, My Duc district, about 60km southwest of Hanoi. It is one of the largest and most unique religious sites in Hanoi with a complex of pagodas, shrines and communal houses scattered on Huong Son (Perfume mountain). The most sacred and important place of the complex is Huong Tich (Traces of perfume) pagoda or Chua Trong (Inner pagoda) which is located inside Huong Tich grotto.
During the three-month festival, many rites and artistic performances are held to commemorate the Bodhisattva Kwan Yin who, according to legend, reached enlightenment at Huong Pagoda. It attracts thousands of pilgrims and tourists, including many foreign travelers who made their way up the Huong Son mountain range to recapture the serenity that has inspired generations of poets, including one of the Trinh warlords, to extol the area's celestial beauty.

Tourists on small boats in the Yen stream. The boats, rowed by local women, take one hour to get to the foot of the mountain.
Photo: Cong Dat/Thanh Giang /VNP


Flowers blossom at Huong Pagoda. Photo: Cong Dat/Tat Son/Thanh Giang/VNP
It takes around two hours to get to the starting point of the pilgrimage – Duc wharf where there are hundreds of boats to serve tourists. From this point, tourists start the journey with a one-hour boat ride on the scenic Yen stream to get to the site. Boat riding on the stream is actually the highlight of the trip because tourists have a chance to enjoy the gentle wind and stunning, peaceful scenery formed by immense green rice paddies studded with jagged limestone mountains and red Gao (Bombaxceiba) blossoms on the two banks of the stream.
The first stop before climbing up to Huong Tich pagoda, tourists stop at Den Trinh (Registering shrine) before visiting ThienTru (Heaven kitchen) pagoda, also known as Chua Ngoai (Outer pagoda) which was built in the reign of King Le Thanh Tong (1460-1497). Form here, tourists can get to HuongTich grotto by the cable car system recently put into operation as an alternative to climbing up hundreds of stone steps. However, most pilgrims if they are able to, including many old women over 80 years of age, will choose to walk as they believe that taking the challenging path up is a way of expressing their sincerity to Buddha.
Huong Tich pagoda is inside the great natural grotto which looks like the open mouth of a dragon and the stalactites and stalagmites inside lead many to believe they are in a miniature pavilion. Above the entrance to the cave, 18th century poet and warlord Trinh Sam inscribed "Nam thien de nhat dong" (the most beautiful cave under the southern sky).There is a statue of the Goddess of Mercy which was made from a whole blue stone in the Tay Son dynasty (1778-1802). According to legend, Huong Son is home to many traces left by Kwan Yin who is believed to bless pilgrims with happiness and prosperity.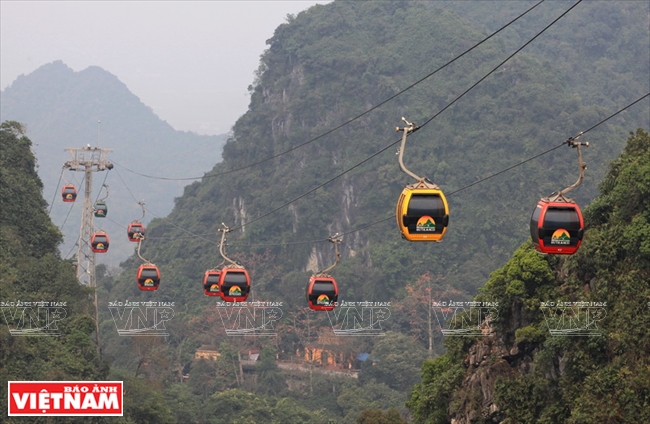 Cable cars connecting Thien Tru pagoda, Giai Oan pagoda and Huong Tich grotto. Photo: Tat Son /VNP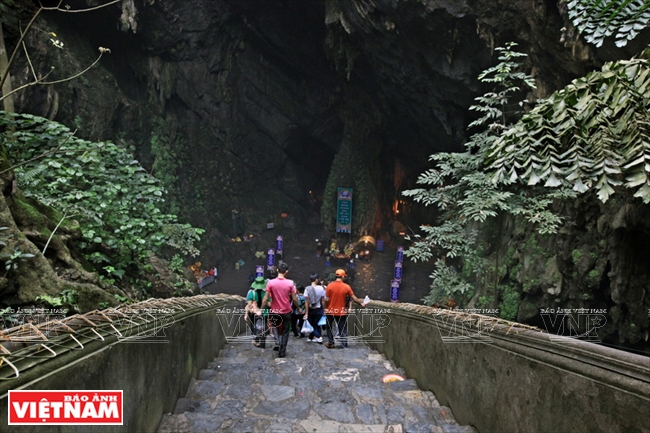 Steps towards Huong Tich grotto. Photo: Tat Son /VNP

A worshipping ceremony at Huong Tich grotto. Photo: Tat Son /VNP

Huong Tich grotto. Photo: Tat Son /VNP


Picturesque scenery of Thien Tru pagoda. Photo: Thanh Giang /VNP
Dinh Thi Vuong, a tourist from Ho Chi Minh City, said: "For more than 50 years, I have been visiting Huong pagoda. It is not only a beautiful spot of Vietnam but also a spiritual place for praying for peace, happiness and prosperity".
Every year, the site welcomes more than one million pilgrims and tourists from across the country who arrive at the sacred cave to pray for a happy and prosperous year, or simply to admire its picturesque beauty.
Story: Quynh Anh – Photos: Tat Son – Thanh Giang – Cong Đat