Representing various historical periods, 18 treasures displayed at the National History Museum more or less reflect the cultural history and quintessence of the Vietnamese nation. Each treasure conveys to visitors messages from the past and interesting stories.
To honour and promote the value of existing treasures, the National History Museum has organised this special event – "Vietnam National Treasures" exhibition. 18 treasures are displayed at the Museum's most solemn place-the main building. With the modern 3D lighting technology applied for the first time, the exhibition space has given it a new look for visitors.
The National History Museum has displayed for the first time 18 national treasures. These treasures are closely associated
to the process of national formation, from the time of Dong Son thousands of years ago to the feudal monarchies and dynasties,
some of which are closely associated with the struggle for national liberation. Photo: Viet Cuong


Deputy Minister of Culture, Sports and Tourism Le Khanh Hai and delegates visit the national treasure exhibition space.
Photo: Viet Cuong


Visitors are looking at "Mon ha sanh an" (central administrative office seal). Photo: Cong Dat
Foreign visitors takes a picture of "Sac menh chi bao" gold seal. Photo: Cong Dat
Visitors are given a general idea on invaluable antiques from the time of Dong Son more than 2,000 years ago, and the Dai Viet civilisation and feudal dynasties to the time of the Democratic Republic of Vietnam.
Together with interesting historical stories and culture introduced by the information board, the short video clips shown at the exhibition space have helped visitors understand more clearly these valuable treasures.
According to the Organising Committee, this special exhibition lasts until the end of May 2017.
Hoang Ha bronze drum, one of the most beautiful bronze drums of the Dong Son. In 1937, it was discovered when canals
were built in Hoang Ha village, Phu Xuyen district (Hanoi). The drum membrane was decorated with a 16 ray-sun
and the ray intervals were designed with the pictures of a peacock tail, daily-life activities, boat rowing and prisoner execution.
Together with the Ngoc Lu, Song Da, Co Loa bronze drums, the Hoang Ha bronze drums reflect the rich material and spiritual life of Dong Son inhabitants, demonstrating the culmination of bronze casting art at the initial time of national formation. Photo: Cong Dat


A Dao Thinh bronze jar, which appeared some 2,000- 2,500 years ago from the time of Dong Son was recognised
by the State as a national treasure in 2012. The bronze jar of Dong Son constitutes a typical relic after the bronze drum
and only appears in this culture. Among hundreds of discovered jars, Dao Thinh is the biggest one with diverse
and unique designs which are tightly and ingenuously decorated. Photo: Cong Dat


The jar's lid is attached with symmetric statutes of four love-making couples, the type of statutes found only in Dong Son art.
The male's sexual organ is expressly exaggerated as compared to his body size, thus reflecting the fertility belief with the water- rice growing population's earnest aspiration for the thriving of all living things. That the male carries a dagger right at the time of sexual intercourse shows the people's alertness due to social conflicts, then wars as the prerequisite for the appearance of military chieftains, thus creating one of the material foundations for the emergence of the incipient state of Van Lang- Au Co. Photo: Cong Dat


The old designs on a Dao Thinh bronze jar. Photo: Cong Dat


"Sac menh chi bao" gold seal weighs 8.3kg, which was cast in 1827 under King Minh Mang's reign. Its knob is made in the shape of a rolling dragon and its face is molded with the four words; "Sac menh chi bao" in relief. The seal was used for rank promotion of civilian and military officials as well as title conferment on deities and humans. This is the single exhibit, symbolising the Nguyen dynasty's power, with special value in the collection of gold treasures of the Nguyen dynasty. Photo: Cong Dat


The standing lamp in the shape of a kneeling person belongs to Dong Son, some 2,000- 2,500 years ago.
The lamp depicts a man wearing only a loin-cloth, in the kneeling position with both hands lifting the lamp disc.
The statute was made with a plump face, wide- open eyes and a smiling mouth with a moustache. The man's thighs and back
are painted with four instrumentalists, two of whom are blowing flutes. He wears jewels on his arms and wrists,
and big round earrings. The standing lamp is the single exhibit, representing the ancient art at the end of Dong Son,
characterised by the exchange with Han (Chinese) culture. Photo: Cong Dat

A Viet Khe boat tumulus of the largest size, which remains mostly intact with many rare and precious accompanying objects
of Dong Son dating back 2,000- 2,500 years ago. This is a coffin made of a tree trunk, also called "mo thuyen" (boat tumulus)
discovered in Vietnam. The tumulus contains 109 objects, comprising largely assorted weapons, musical instruments, working tools
and daily-life instruments, made of bronze. The boat tumulus was recognised as a national treasure in 2013. Photo: File


Vo Canh stela- the most ancient stela in Southeast Asia is a vertical tubular- shaped stone block engraved on three sides
with ancient Sanskrit letters revealing much valuable information on the history of pre-Nam Cham kingdom history.
This is the remaining most ancient stela of the Cham Pa kingdom. Photo: Viet Cuong


The Van Ban pagoda bell is the oldest and biggest bell of Dai Viet civilisation, dating back to the 13-14 centuries under the Tran dynasty. The bell body is engraved with Han (Chinese) characters telling of persons with merits in opening forests, levelling mountains and reclaiming land for construction of Van Ban pagoda. The bell constitutes a valuable source of materials for research into the history and culture of Vietnamese Buddhism in general and the Tran dynasty in particular. Photo: Cong Dat


"Mon ha sanh an" (administrative office seal) is a bronze seal with clear contents and specific era related to the history of the central administration of the Tran dynasty. The seal was cast during the Tran dynasty, in the fifth year of Long Khanh (1377). It was discovered in 1962 in Huong Giang commune (Huong Khe district, Ha Tinh province). "Sanh Mon ha" was one of the highest central administrative offices of the Tran dynasty, established by King Tran Minh Tong. This office was close to the king with the task to keep royal seals, to pass the king's orders to mandarins, to receive reports submitted to the king and preside over royal ceremonies. Positions in this office were held by high-ranking mandarins. "Mon ha sanh an" was used to stamp on important royal administrative documents, from the time of King Tran Phe De (ruling 1377-1388) onwards. Photo: Cong Dat

A swan- painted vase appeared in the early Le dynasty, which is the largest and remains mostly intact in the collection of objects found on a sunken ship in Cu Lao Cham, Hoi An (Quang Nam province). Its decorated designs are divided into 7 bands covering the entire vase from top to bottom. The leading design band covers the largest space in the middle of the vase, which is painted with four swans, one is flying with fully stretched wings, one is crying and craning its neck, one is sleeping with its head buried under its wings and the rest are looking for food. All these convey the people's aspirations for rank promotion, bright future, healthiness, and an abundant life. The early Le dynasty witnessed the glorious development of ancient pottery art in Vietnam. Photo: Cong Dat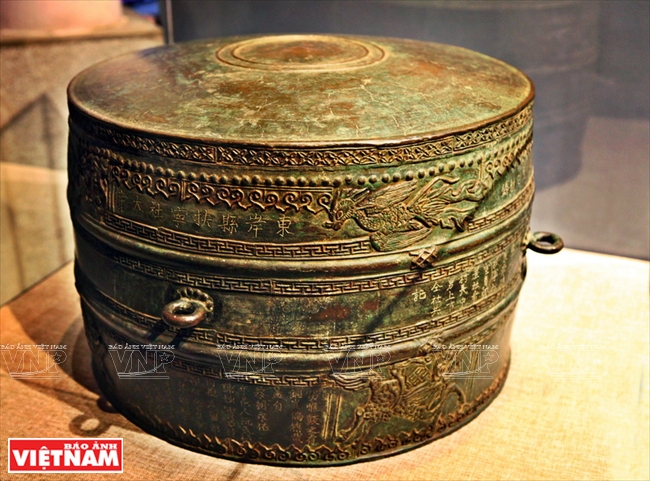 A Canh Thinh bronze drum was cast in 1800 during the Tay Son. This is the unique exhibit in the collection of Vietnamese bronze drums. Its principal decorated designs were molded in relief with four noble animals (dragon, unicorn, tortoise and phoenix), symbolising a peaceful, prosperous and safe country. Other special values of the Canh Thinh bronze drum lie in the document with a 222 word written explanation of the drum casting reasons and purpose, depicting a villager, Nguyen Thi Loc, wife of the chief eunuch in the Vinh Huu second year of King Le Y Tong (1736), who made great contributions to the construction of Linh Ung pagoda. Photo: Cong Dat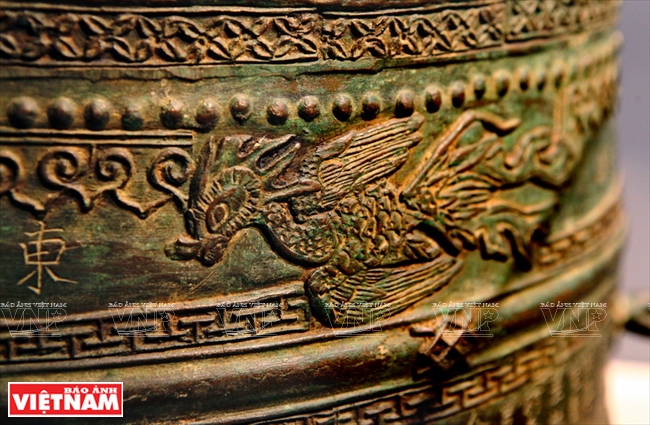 A close look at the ancient designs engraved on the Canh Thinh bronze drum. Photo: Cong Dat


"Nhat ky trong tu" (Prison Diary) poem collection, together with its original, is also displayed in the form of photographs
of all pages and their translated versions. Photo: Cong Dat


"Duong Kach Menh" is the collection of lectures given by Nguyen Ai Quoc during his revolutionary activities in Gangzhu (China) from 1925-1927, published by the Propaganda Ministry of the Union of Oppressed Oriental Nations and secretly sent back to the country.
This is considered the first political theoretical document of the Party, laying the ideological foundation for the lines of the Vietnamese revolution. Photo: Cong Dat
By Cong Dat & Viet Cuong