Japanese professor Masaaki Shimizu has been presented with the 2017 Balaban Award by the US-based Vietnamese Nom Preservation Foundation (VNPF) for his contributions to preserving Vietnam's ancient script.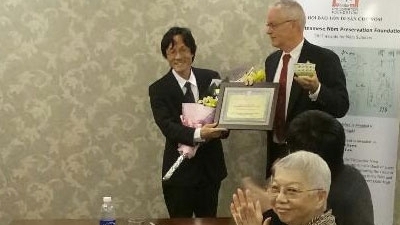 The young Nom scholar awards were also presented to Washizawa Takuya from Japan and Dr Nguyen To Lan from the Institute of Han-Nom Studies at a ceremony held in Hanoi on March 6.
Professor Shimizu, currently teaching Vietnamese at Osaka University, is the author of many articles on the Nom script and Vietnamese culture.
Speaking at the awards ceremony, Professor Shimizu said he began studying Vietnamese in 1985 and travelled to Vietnam in 1990 to conduct research on the language where he received tremendous help from many local experts.
His student, Washizawa Takuya, now a researcher at the Faculty of Languages of the Hanoi University of Social Sciences and Humanities has also published many articles on the Nom script.
Dr Nguyen To Lan has also carried out extensive studies on the Nom script, considering it as a vehicle to explore Vietnam's culture in the past.
She completed a master's thesis on tuong, a genre of Vietnamese opera, by tapping into a huge archive of tuong drama scripts written in Nom characters and published books on ancient tuong.
VNPF President Lee Collins said the annual Balaban Awards are granted to individuals who have made contributions to the research, preservation and promotion of the Nom script.
The award is named after John Balaban, who founded the VNPF in 1999 after gathering experts from around the world to help translate thousands of documents and encourage others to preserve the script.
For centuries, the Vietnamese people used the Nom script, created based on Chinese characters, to record their speech into writing.
But due to its complexity, Nom gradually fell out of use and was completely replaced by chu Quoc ngu (the national language script) based on the Roman alphabet in the 20th century.
Nhan Dan