VietNamNet Bridge – Once upon a time, it might have served as a home for someone like Robinson Crusoe, but even today, a tiny islet in the middle of the Huong River not too far from a major city turned out to be a surprising discovery.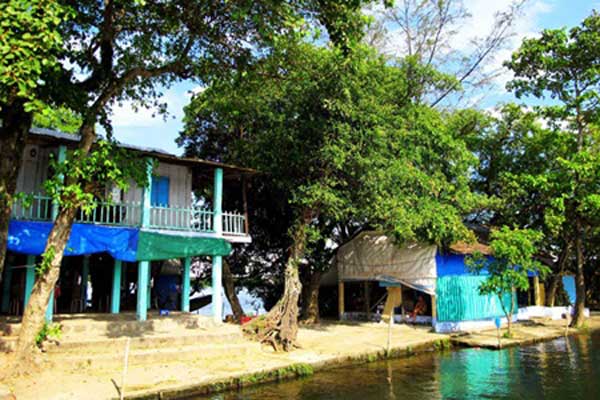 We were boating for fun on the river section that flows through Hue City when we chanced upon the islet. The sense of stumbling upon something new was enhanced when we came across inhabitants on what we presumed to be an uninhabited stretch of land.
Finding out that all 30 or so inhabitants of the islet belonged to one family further heightened our curiosity.
"Who would have thought that people live here, among this clump of green trees in the middle of the river," exclaimed Nguyen Thi Mai Trang, a Hue resident who'd come along for the ride.
The inhabitants are officially registered as three separate families headed by Vo Van Thai, Vo Van Vinh and Vo Van Quang.
Thai, Vinh and Quang are siblings, sons of late Vo Van Sat, the islet's first resident, who had six children, including three daughters. Two daughters have married and live in mainland homes in Phu Cat Ward. Another daughter has not married and is registered in the residency book of her brother Quang.
Thai and Vinh have nine children each, while Quang has six. Some of the children are married and have children, making up the total population of 30.
We were intrigued when everyone we spoke to said they were all happy with life on the islet despite the isolation, and wanted to live forever on the land first inhabited by their family.
Happily separated
"We have a decent life here on the islet. Everything is going well and we have no intention of leaving," said Vinh.
Vinh and his siblings do not know the exact date on which their father, whose name they've given to the islet, settled down there. In their 60s now, they can only agree that the family had lived there "since long ago".
The stretch of land, called "Mr Sat Islet" by those who know it, is around 600sq.m large, and reachable only by boats or swimmers. It is just 500m downstream from the city's famed Truong Tien Bridge, or 250m from the historic Dong Ba Market.
The public security division of Vy Da Ward affirmed that the family members were legal residents and treated on par with other mainland households.
"Hue authorities have relocated the floating community around the islet to inland areas, but this family was already settled on the land, so we let them stay," said a division official who did not want to be named.
The family lives in a two-storey 300sq.m house and some subordinate structures. The house is connected with the national power grid via a pole on the Con Hen (Mussel Island), which is located behind the islet and hosts some 600 families.
Water for daily needs is taken from the river and they use boats to transport potable water bought from households living on the mainland.
The family uses two small boats to travel to and fro from the islet and river banks. There's a bigger boat with an engine used for Vinh's business – trading in firewood, and for emergency evacuation by the whole family when there is heavy flooding.
The contentment of family members seems to have rubbed off on newcomers like Nguyen Thi Hanh, 37, a daughter-in-law. She works as a tailor, but does not leave the islet. She takes on jobs from inland shops and takes the boat ashore when the job is done.
"I have never had problems with life here. I look forward to the days ahead," Hanh said.
High hopes
Vo Thi Thanh Van, 22, a younger resident of the islet echoed her relative. "I love the family and the life here. It's rare to have a unique home like this.
"I don't feel any difference at all (from life on the mainland). Even if there are some small quarrels among the younger people, everything returns to normal soon. We are a happy family."
Van is only the second person in the family who has gone beyond high school and entered a university. She is currently in the fourth year of studying English pedagogy at the Hue University of Foreign Languages. With higher education, Van has higher aspirations.
"The only troublesome part of life on the islet is the boat travel during rainy and flooding seasons. We either get wet or have to stay away from school on days with heavy rains or floods."
Van said she wished they had a boat with a roof and engine to make travel from the islet to the shore more convenient. Once on shore, Van and her younger sister, a 11th grade student, use a motorbike and a bicycle to ride to school.
"That will help my sister and I very much in finishing our education," she said, adding that it would also be useful for the next generation, including her nieces and nephews.
Van also said the family's economic situation was not good enough for her to go shopping for a new boat. Her father and her uncles, including Vinh, are not strong enough for regular work and spend time at home cooking and taking care the family.
"The islet is an idyllic setting for a coffee shop selling coffee and local food specialties like com hen (mussel rice) and che bap (corn sweet soup). The islet atmosphere offers unique views and a relaxing ambience," she said.
She said she is looking to loans to carry out her plan and improve her family's economic health.
Van also wanted more attention from ward authorities, especially in terms of a more permanent power connection and water supply.
"During winter when it rains heavily, we suffer blackouts because the electricity poles are weak. Good power and water supply will be good for the future of the children on the islet," she said.
She noted that the whole family relies on just two TV sets on which they can only watch the minimum available TV channels (without any cable connection).
Van's ambitions and frustrations with the hindrances she encounters in fulfilling them seemed like a storm in a teacup that barely affected other family members.
Her uncle Vinh explained: "It is simple. My father lived here and we continue to live here. We don't think of why we are living here or about leaving this place sometime in the future. We feel okay and we are happy."
Phuoc Buu
VNS