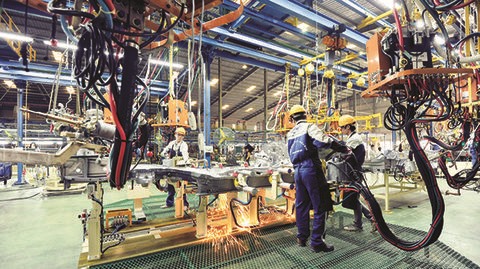 HÀ NỘI – Human resources will be a key driver in manufacturing companies becoming Industry 4.0* players, experts said at a press conference held in the capital city on Thursday.
The press conference was held to introduce the Việt Nam Manufacturing Expo 2017 (VNM) that will be held from April 26-28.
Isara Burintramart, managing director of Thailand's Reed Tradex Co., said that other drivers of the Industry 4.0 trend will be Government support, data analytics and economic management.
"I believe that Việt Nam's workforce is ready to learn and step into the Industry 4.0 era. The best way to approach the 4.0 revolution is to do it in small steps, starting with a strategy or a pilot project," he said.
Nguyễn Văn Thụ , Chairman of the Việt Nam Association of Mechanical Industry, agreed, adding that the small and simple steps need to be taken immediately.
Investing in human resources should be considered the most important task for local manufacturers in addition to fostering technical innovation and enhancing co-operation among businesses to maximize efficiency and avoid overlapping investments, he said.
Thụ said a number of Vietnamese businesses, especially those in the automobile, agricultural machinery and design industries, have moving to Industry 4.0 with efficient investments in technological innovation.
He cited as an example the comprehensive business plan of Trường Hải Auto Corp in constructing the Chu Lai-Trường Hải Automoile Mechanical Industrial Zone, which will start operations in 2018.
The company has expanded investments in laser welding technology and the latest paint technology, expecting its annual capacity to reach 100,000 cars, 100,000 trucks and 5,000 buses.
Other speakers at the press conference explained that Industry 4.0 refers to the 4th industrial revolution, coming after the earlier waves of mechanisation of production using steam power, mass production powered by electric motors and digital revolution with electroics and IT used to further automate production. The fourth revolution creates the "smart factory" by "impactful orchestration of emerging technologies including the Internet of Things, the Cloud, Analytics, Robotics, 3D printing and Artificial Intelligence.
The VNM 2017 will present state-of-the art technology with particularl focus on metrology and assembling automation. It will run along with two exhibitions: Việt Nam Sheet Metal and Industry Components and Subcontracting Việt Nam.
The expos are expected to attract over 200 leading brands, from 20 countries including Japan, South Korea, Thailand, and Singapore. – VNS