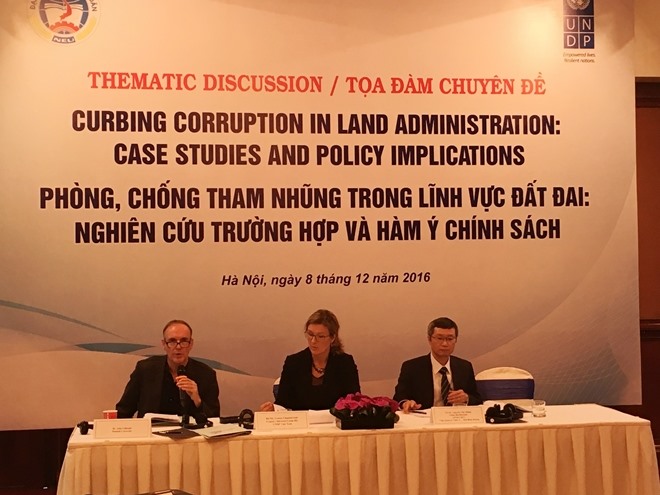 Viet Nam News
HÀ NỘI – Interaction between firms and public land administration officials pose major and serious corruption risks, posing a threat to public-private partnership (PPP) policies aiming to boost Việt Nam's infrastructure development, Professor Trần Thọ Đạt, principal of National Economics University (NEU), announced via NEU research yesterday.
"Research and practice tell us that management and use of land is one of the fields with highest risks of corruption in Việt Nam. This affects sustainable development and residents' life quality," Đạt said.
"The PPP model poses challenges in harmonising benefits for the nation, community, residents and enterprises," he added.
Đạt's claims come as part of key findings released in research entitled "Indentifying corruption in land administration through case studies in capital investment projects" commissioned by NEU's Asia-Pacific Institute for Management and UNDP Việt Nam.
The research team conducted in-depth interviews in five case studies that involved in different types of government-private partnerships, such as new residential precincts, a new commercial market, gravel-pit mining and land consolidation in rural development.
The case studies show that government-private partnerships do not reflect the interests of those most affected by the proposed developments. Powerful interest groups dominate land planning and development with little regard for broader social and economic interests.
According to the research, government-private partnerships allow officials to act entrepreneurially and make decisions primarily outside formal State agencies and processes.
Handing over land, hiring land and shifting land use purposes are not in accordance with planning and residents' wills; they depend on investors' demands. There are signs showing power abuse in adjusting planning to seek individual profits, Đạt said.
On behalf of the research team, Doctor John Gillespie from Monash University in Australia offered recommendations.
He suggests giving representative groups of citizens a direct say over particular land development projects and increasing the opportunities for citizens to publicly engage with local governments in shaping land-development agendas.
Hoà ng Vân Anh, director of Legal Department under Land Administration Agency of Ministry of Natural Resources and Environment, said that the research offers good recommendations for the department in compiling policies related to land administration. In the near future, the agency will consider strengthening public supervision in land management to reduce corruption. – VNS