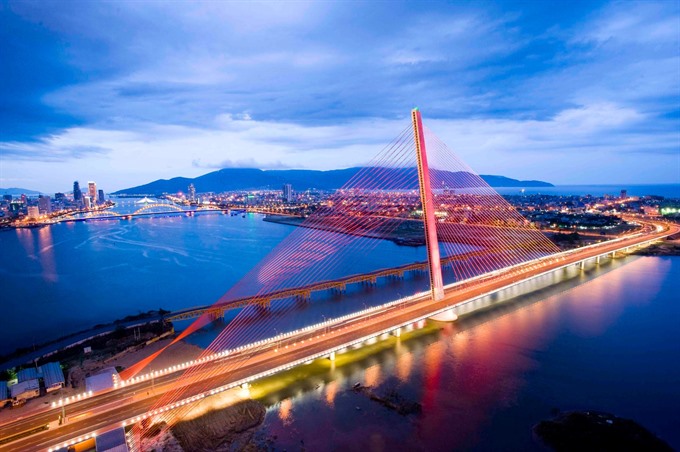 Viet Nam News
ĐÀ NẴNG – The central city of Đà Nẵng has submitted an adjustment to its master urban plan for 2030 – 2050 to Prime Minister Nguyễn Xuân Phúc.
The city's administration said the master plan, approved by then Prime Minister Nguyễn Tấn Dũng in 2013, needs to be changed in accordance with rapid development in the last three years.
The city wants to change its urban development goals to include the expansion of public space, full urban services and environment protection.
Đà Nẵng's adjusted master plan also focuses on tourism as a core economic sector.
The city will also concentrate on high-tech industry and hi-tech farms as well as organic and safe farming.
According to the city's industrial park management board, six industrial zones (IZs), covering 1,000ha have leased out 90 per cent of their area.
The city submitted plans to develop three new IZs and expansion projects on over 1,000ha in the west of the city.
Đà Nẵng International Airport, designed to host six million passengers by 2020, was overloaded by last year. The airport is set to be expanded to host the 2017 Asia-Pacific Economic Co-operation (APEC) Summit, and 10 million tourists per year.
The airport also needs to increase capacity to 20 million passengers in 2030.
The city's Tiên Sa Port, a major port for both cargo and cruise ships, is exceeding its capacity and transport system.
The city's Port Company said road No 14B connecting Tiên Sa Port is crowded with container trucks every day, resulting in congestion in two tourism centres – Sơn Trà and Ngũ Hành Sơn district.
The city has called for investment in building a new Liên Chiểu port as a major cargo port, while Tiên Sa will be a tourism port only.
Wastewater treatment was also included in the adjusted plan as the city's household wastewater shares a drainage system with rain water, and is discharged directly into the environment.
The city needs to build a wastewater treatment station and a separate system for rain water and household wastewater.
Đà Nẵng has asked the World Bank to increase its funding for wastewater treatment in the city with a US$115-million budget proposal.
An underground traffic system was also inserted in the adjustment plan as the city plans to develop tunnels and a metro system in the coming years.
The city's master plan aims to give Da Nang a facelift as it plans to become a green city by 2025, and an economic hub of the central region and a driving force for boosting development of the central and Central Highlands regions.
Earlier this month, the Government issued special regulations concerning investment, budgetary status and decentralisation for Đà Nẵng
The city plays an important role as a logistical centre for the coastal central region and the East-West Economic Corridor, which links Laos, Thailand, Myanmar and Việt Nam. – VNS