Disco band Boney M and Chris Norman, former lead singer of the band Smokie, will perform in Hanoi on October 1.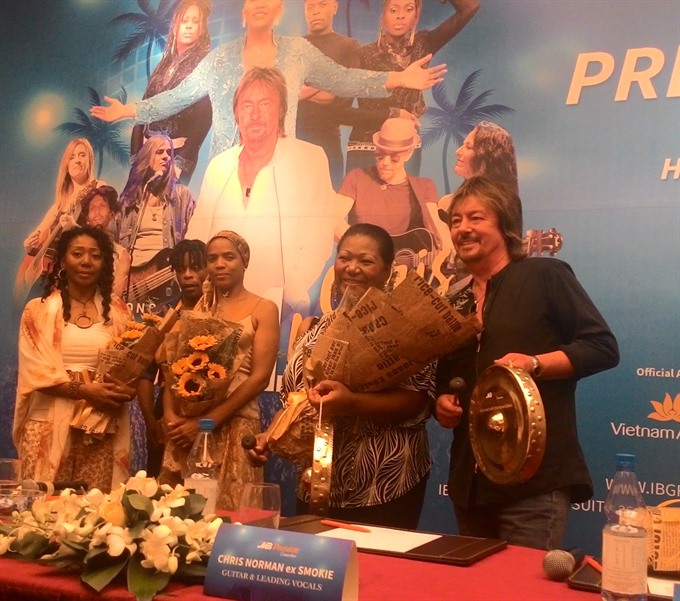 Boney M is known as one of the most successful disco bands of all time. Formed in 1976, the band scored hits on charts in countries across the world, such as Germany, the UK, the US, and Asian nations.
In the 1980s, the band's music spread widely through houses in urban and rural areas in Vietnam with hits like Daddy Cool, Rasputin, Rivers of Babylon, and Brown Girl in the Ring.
Rock star Chris Norman will also perform Smokie's hits such as If You Think You Know How to Love Me, Living Next Door to Alice, Lay Back in the Arms of Someone, Stumblin' In, and Midnight Lady.
Liz Mitchell, head of Boney M, and Chris Norman said that they don't remix songs but will perform the original versions to bring good memories to their audience.
"I'm so happy that our songs were so popular among Vietnamese people in the 1980s-1990s and they were played at most celebrations like wedding and birthday parties," said Mitchell.
"You just listened to the songs recorded in the studio, now you will see a little bit of a difference when we perform them live on stage."
Mitchell said the welcome and love of many generations of Vietnamese people for her band encouraged her so much.
"I believe that music is food for the soul. I'm so happy that our songs can enrich your souls. Now when I go to the studio, I will think about this and try to be worth your encouragement."
This time, beside Mitchell, Boney M includes Paulette Vanessa Kerr, Jacinth Valerie Margaret Mhende, Toni Ashcroft and manager Thomas Pemberton JR.
Norman came to Việt Nam several days before the concert, so he had time to enjoy local food. He said the country has many amazing things including streets full of motorbikes and small, crowded food shops in the Old Quarter.
This is the first time these artists loved by Vietnamese music lovers will perform on the same stage thanks to the co-operation of Military Bank (MB) and IB Group.
The two-hour concert will take place at the National Convention Centre, Phạm Hùng Street, Hà Nội. Ticket price is ranged from VNĐ800,000 (US$37) to 6 millions ($273).
VNS