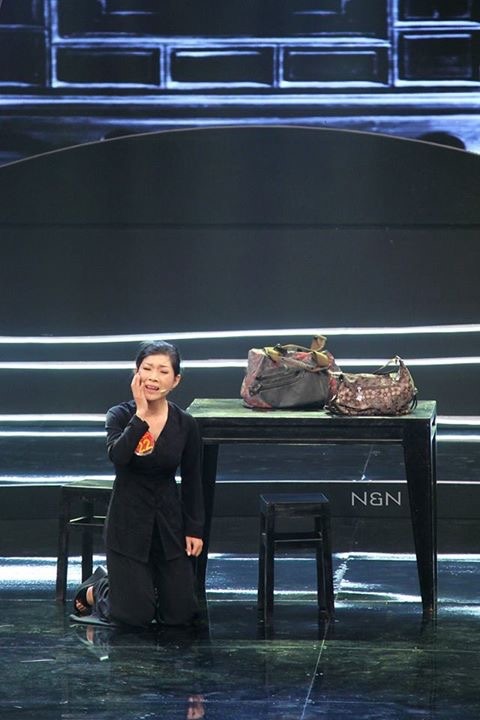 Viet Nam News
HCM CITY- Nguyễn Hồ Như Tuyết Nhung of An Giang Province won the 2016 Chuông Và ng (Golden Bell) Award in the annual cải lương (reformed opera) contest organised by HCM City Television.
The talented Nhung captured the hearts of the judges and audiences by singing excerpts from Bức Ngôn Đồ Đại Việt (Vietnamese Map) and Hồn Quê (Sould Of Country), two famous historical plays written by Trần Hữu Trang and Viễn Châu, at the final round last week at the HCM Television Theatre.
She competed with 11 other singers to bring home the Golden Prize, garnering 43 per cent of the audience vote.
Twenty-five-year-old Trịnh Thị Ngọc Huyền of Trà Vinh Province was the runner-up, while her closest competitor, 32-year-old Nguyễn Thị Ngọc Châu of HCM City, finished third.
The contest's final round was broadcast live on HTV9 and attracted more than 50,000 viewers in the city and southern provinces.
"I have learned many lessons in singing and performance skills from my father, People's Artist Ngân VÆ°Æ¡ng, who gave me everything he had," the 33-year-old Nhung said.
Nhung offered something new in her role in the two plays which have catapulted many artists to fame.
"Nhung combined traditional and modern styles," said Meritorious Artist Minh VÆ°Æ¡ng, a member of the jury.
Nhung began learning singing from her father when she was a child and performed in cải lương clubs while at school.
"My father wanted me to finish my studies before getting involved in theatre. He believes that knowledge can help you develop your art," she said.
In 2000, Nhung won the first prize at a professional contest called Cải LÆ°Æ¡ng Contest for Supporting Young Talents launched by the HCM City Theatre's Association.
She later worked for the An Giang Art Troupe and Long An Cải Lương Theatre.
Nhung has worked with veteran artists such as Lê Tứ and Thanh Hùng to improve her voice and dance skills.
"After winning the Chuông Và ng prizes, winners have opportunities to develop our career professionally. We also better understand why it is important for us to preserve and develop cải lÆ°Æ¡ng," she added.
The Chuông Và ng contest was held over a three-month period in HCM City, with 900 artists aged 16 to 35 from amateur and professional troupes around the country competing. – VNS