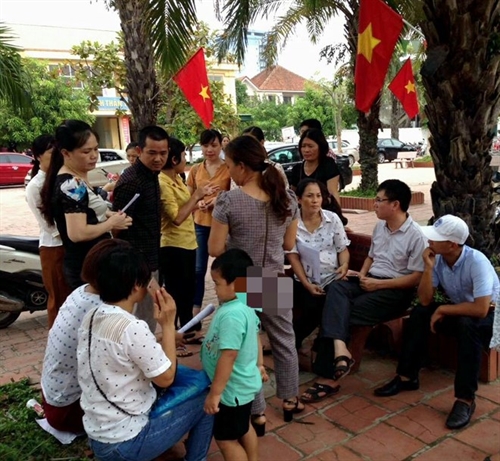 Viet Nam News
NGHỆ AN – Hundreds of parents at a primary school in the central province of Nghệ An have demanded an end to the application of a new learning and teaching model called the Việt Nam Escuela Nueva (VNEN).
At a meeting held over the weekend between representatives from Nghệ An Province's Educational and Training Department and leaders of the school, parents from Nguyễn Trãi Primary School said on Monday they wanted the school to use a traditional education model this school year.
Since the 2012-2013 school year, 73 primary schools in Nghệ An Province have applied the VNEN method, funded by the Global Partnership for Education. VNEN was designed to make students more engaged in class with teachers serving as facilitators, and parents and other community members getting more involved to make learning relevant to children.
Last Tuesday, hundreds of parents gathered at the school to protest against the new education model, saying that VNEN was not appropriate for their children.
In accordance with this model, students sit in an abnormal position, which might affect their backbones and cause a loss of vision and limited ability to acquire knowledge, especially for those with lower aptitude, according to the parents.
Under this model, students no longer sit facing the teacher. Instead, a class is divided into groups with 4-6 students per group, and a student is assigned to lead the group by reading textbooks following the teacher's instructions and relaying the content to other students.
Parents said the programme was more suitable for those who were gifted and talented because teachers take a hands-off role and only raise questions and topics for students to discuss, which is difficult for students who have trouble learning even in a traditional setting.
Some parents expressed support for the VNEN model. They said great efforts had been made by the school to improve the campus, and teachers were dedicated and enthusiastic. However, they said, it's not the right time to apply VNEN, and the adoption of this model takes time. If the school continued the programme, they would not allow their children to go to school, they said
At the end of the meeting, Thái Huy Vinh, deputy director of the provincial Department of Education and Training, said the department would assign the school to gather opinions and then decide if the project should continue.
The most important issue was to stabilise the psychological state of students before they enter a new school year, he said.
The VNEN project, worth about US$84.6 million, was run in more than 2,300 primary schools and about 1,000 secondary schools between January 2013 and May 2016. – VNS