Thua Thien-Hue hosts int'l seminar on odonto-stomatology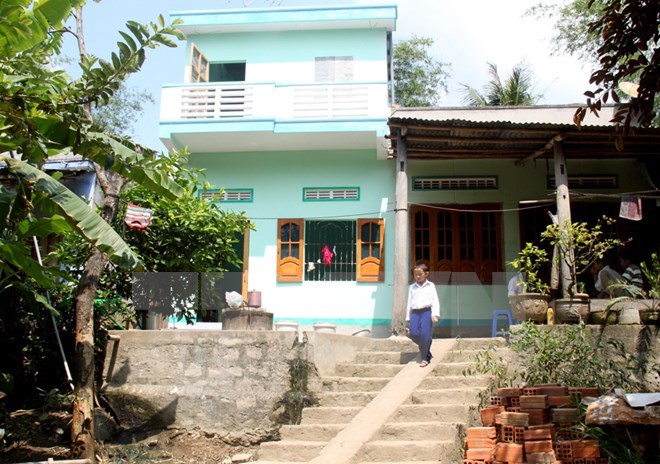 An international scientific seminar on odonto – stomatology is taking place in the central province of Thua Thien-Hue, attracting over 200 leading doctors and dentists at home and abroad.
Speaking at the opening of the event on May 12, Chairman of the Vietnam Odonto-Stomatology Association (VOSA) Trinh Dinh Hai said the seminar provides a platform for participants to learn about the latest expertise and technological advances, thereby improving health care quality.
Rector of the Nippon Dental University of Japan Akira Hamura presented the latest report on Xylitol's breakthrough impacts on tooth decay prevention.
Participants also discussed new dentistry materials, technologies used in pathological and aesthetic dentistry, and new treatment techniques.
On the sidelines of the event, an exhibition of dentistry materials and utensils was opened, displaying prestigious brands in the field.
The VOSA and the Lotte Xylitol company also signed a memorandum of understanding on cooperation, under which the latter will assist Vietnam in studying and offering preventive dental care.
On the occasion, the VOSA decided to establish a Committee on Cooperation in Xylitol Dental Care, with leading dentists as its members.
Co-hosted by the VOSA and Hue University of Medicine and Pharmacy, the seminar will last till May 14.
Da Nang: Climate resilient house project kicks off
A project, which aims to realise initiatives of building climate resilient houses for low-income people living in urban areas, was officially launched central Da Nang city on May 12.
Financed by the Nordic Development Fund, the 1-million-USD project seeks to increase the number of houses that can resist and adapt to storms and floods.
It includes five main processes, focusing on studying constructed houses, designing funding packages, piloting construction of houses on the basis of funding packages, making documents related to impacts of funding mechanisms, and promoting expansion of the project.
Previously, the " Storm Resistant Housing for a Resilient Da Nang City " project funded by the US's Rockefeller Foundation, which began in the central city from 2011, has benefited 414 local families, helping them in constructing and upgrading their houses.
Lao province seeks long-term cooperation with Ha Nam
A delegation from Laos' Oudomxay province led by provincial Party Committee Secretary and Governor Phetsakhone Luang-Aphay visited the Red River Delta province of Ha Nam on May 12 to seek long-term and sustainable bilateral cooperation.
At the meeting with Secretary of the Ha Nam Party Committee Nguyen Dinh Khang, the Oudomxay leader said the visit aims to establish sustainable relationship in the future between the two provinces.
He also noted his wish that Ha Nam will introduce potential investors to Oudomxay.
On his part, Khang briefed his guests on Ha Nam's social-economic development as well as its strengths, expressing his willingness to build a long-term strategic relationship in order to make the most of each province's advantages.
During their stay, the Oudomxay delegation also visited the Dong Van Industrial Park in Duy Tien district and the Tam Chuc national tourism area in Kim Bang district.-
First Vietnam Int'l Café Show opens in Ho Chi Minh City
The first Vietnam International Café Show is taking place in the Saigon Exhibition & Convention Center in Ho Chi Minh City from May 12-14.
The event is among a series of international exhibitions on coffee held annually in the Republic of Korea (RoK), China, Malaysia and Singapore.
It brought together nearly 80 businesses, one fifth of which come from foreign countries and territories, such as Colombia, Peru, Germany, Italy, the RoK and Thailand.
Ngo Dong Hai, chief representative of the southern office of the Department of Rural and Development, said that the event is essential to promote Vietnamese coffee products to both domestic and foreign consumers and enterprises.
Hai said Vietnam is popularly known for a leading coffee planting and exporting country globally, but not for its refined coffee products.
Activities within the framework of the exhibition will provide a fresh and more objective insight into the quality of Vietnamese coffee, he added.
Special events held during the exhibition include the Vietnam National Barista Championship, Coffee Training Station, World Barista Championship (WBC) All-Stars Ho Chi Minh City 2016, Cherry's Choice – New & Hot Products Showcase, and Sweet Class, trendy recipes for dessert, bakery and beverage using various syrups.
Hai Phong int'l container terminal project launched
Construction on the Hai Phong international container terminal (component B) began in Cat Hai district, the northern port city of Hai Phong, on May 12.
The two 750m-long wharves in the component will sit on an area of 40ha each and cost a total of 321 million USD.
Once completed in 2018, the terminal will become the first deep-water port in the north, capable of receiving vessels up to 100,000 DWT.
It is also expected to be a major point connecting with international deep-water ports at Cai Mep-Thi Vai, making it easier for Vietnamese goods to navigate European and American markets.
Addressing the ground-breaking ceremony, Prime Minister Nguyen Xuan Phuc lauded the Saigon Newport Corporation, the Japanese Molnykit company and the Hai Phong international container port company for launching the project as scheduled.
He also thanked the Japanese government for providing support for Molnykit throughout the process.
Japanese Ambassador to Vietnam Fukada Hiroshi hailed the project as a symbol of Vietnam-Japan ties and a pilot one in infrastructure in the form of public-private partnership.
In order to put the port into operation in 2018, the PM asked investors, contractors and relevant units to seriously comply with commitments in the contract in line with the law, ensuring the progress and quality of the project.
Researcher donates valuable books to Hà Nội institute
Noted scholar Vũ Tuân Sán has recently donated 500 books of Hán-nôm (Sino nôm) literature to the Hán Nôm Research Institute in Hà Nội.
The books include several unique printed versions of history, geography and literature that the researcher had kept for the past 50 years and are written in the Sino nôm ideograph language.
Sán was born in Đại Từ Village, in present Hoà ng Mai District, Hà  Nội. The scholar is considered a pioneer for his research on the Sino nôm language of Thăng Long-Hà  Nội. In 2014, at the age of 100, Sán was awarded the Great Prize at the Bùi Xuân Phái – For the Love of Hà  Nội Awards for his research on Hà  Nội.
Noted reformed opera artist's memoirs released
Various important details of the personal life of renovated opera singer Kim CÆ°Æ¡ng were recently revealed in the singer's memoir titled Sống Cho Người, Sống Cho Mình (Live for Others, Life for Myself).
The memoir was published by PhÆ°Æ¡ng Nam Books and HCM City Culture-Arts and Literature Publishing House and distributed nationwide yesterday.
The artist met audiences in Đà Nẵng on the same day. She will also visit Huế today, Cần Thơ on Sunday and HCM City on May 17 to interact with audiences.
Vietnamese culture on show in Mexico
Vietnamese cultural heritage was on show at a get-together among local students and teachers in San Miguel de Allende City, Guanajuato state, Mexico on May 12.
During the event, Dao Van Dung from the Embassy of Vietnam in Mexico briefed participants on Vietnamese culture, affirming that the Party and the State of Vietnam work to preserve the cultural heritage recognised by UNESCO.
He also introduced the landscapes and people of Vietnam, Vietnam's visa procedures, and highlighted trade exchanges between the two countries.
President of the Coordinating Council of Enterprises of San Miguel de Allende Luis Ferro de la Sota expressed his admiration of Vietnam's landscapes, such as the UNESCO recognised Ha Long bay and Phong Nha Ke Bang National Park.
He called on the embassy to organise exchanges between Vietnamese and Mexican students to enhance their mutual understanding.
Two documentaries entitled "Welcome to Vietnam", and "Vietnam – the hidden beauty" were also screened at the event.
San Miguel de Allende, with a population of nearly 100,000 people, was recognised as a world cultural heritage site in 2008 by UNESCO.
Khang wins fourth stage of cycling tourney
Nguyễn Phạm Quốc Khang of Vĩnh Long won the fourth stage of the Hạt Ngọc Trời Cycling Cup yesterday from Cao Lãnh City of Đồng Tháp Province to Vĩnh Hưng District of Long An Province.
Khang finished the 113km stage with a time of 2hr 42.9min, leaving his runners-up Dươn Phi Dứt of Cambodia and Nguyễn Minh Việt of Bình Dương 7 seconds behind.
Presenting in the first bunch at the finish line, Huỳnh Thanh Tùng of Military Zone 7 remained the yellow jersey leader, getting a time of 5:55.02 after four stages. Phan Hoà ng Thái of Domesco Đồng Tháp and Khang were second and third, respectively.
Military Zone 7 are the leading team, followed by An Giang and Đồng Tháp.
The fifth stage today is from Kiến Tường District, Long An Province to Vĩnh Long Province over a 95km course.
Million-dollar catamarans shuttle between Ho Chi Minh City and Vung Tau
Three catamarans shuttling between the southern beach city of Vung Tau and Ho Chi Minh City have been officially put into operation after a week of pilot testing.
Ho Chi Minh City-based Greenlines DP Company began services of the three twin-hull boats on May 11, which carry passengers between the two cities.
The catamarans are scheduled to depart at three designated times per day during weekdays from Nha Rong Port in Ho Chi Minh City and Cau Da Port on Ha Long Street in Vung Tau.
An extra trip is added each day on weekends to meet the demand of travelers.
According to a representative of the shipbuilder, the catamarans are made of light, durable material imported from the United States.
Each of the ships runs on two German engines that are fuel-efficient and enable the boats to run at high velocity, the representative added.
The three boats are estimated to travel from one destination to another in about an hour and 15 minutes under normal weather conditions.
Each of the brand new catamarans cost about US$1 million, according to the representative.
Passengers will be charged VND250,000 (US$11.22) per trip, with people over 62 years old having to pay only VND180,000 (US$8), news websiteVnExpress reported.
Children from six to 11 are to pay VND120,000 (US$5.39) while those under six years old ride free.
The boats are equipped with high-speed Wi-Fi and air-conditioners, the online newspaper added.
Vietnam to monitor waste discharge from Taiwanese firm linked to fish kill
The government of Ha Tinh Province said on May 11 it will quickly set up a monitoring station to check wastewater discharged from a Taiwanese-invested steel plant, suspected to be responsible for the mass fish deaths along the central coast.
Dang Quoc Khanh, chairman of Ha Tinh People's Committee, told the press the construction of the station is "urgent" and the provincial government will finance the project, Zing.vn reported.
The Department of Natural Resources and Environment will oversee the project, he said.
He expected the onsite station at the plant of Hung Nghiep Formosa Ha Tinh Steel Company, a major firm in Vung Ang Economic Zone, will finish in one month.
The station will automatically collect and analyze samples from Formosa's sewage pipe and will be linked to existing stations managed by Ha Tinh's Department of Natural Resources and Environment.
Earlier on May 1, Prime Minister Nguyen Xuan Phuc ordered the environment ministry and Ha Tinh authorities to build the station as soon as possible.
Hundreds of tons of fish were washed ashore in early April in Ha Tinh, Quang Binh, Quang Tri and Thua Thien-Hue provinces, apparently killed by industrial effluents.
Suspicion has centered on Formosa, which admitted it has a large sewage pipe going straight into the sea. But it claimed all its discharged wastewater had been treated.
Officials have said they could not find any connection between Formosa's discharge and the disaster yet. Local and foreign scientists are assisting them in the investigation.
The environment ministry has admitted that response to the disaster was slow.
Ministries, localities urged to proactively tackle natural disasters
Deputy Prime Minister Trinh Dinh Dung has requested ministries and localities to take a more proactive attitude in coping with natural disasters to mitigate human and property losses while enhancing public awareness of the issue.
Speaking at a video conference in Hanoi on May 12, the Deputy PM asked local authorities to keep a close watch on the development of natural calamities to build appropriate prevention measures.
At the same time, localities need to strengthen the Steering Committees for Natural Disasters Prevention and Search and Rescue at all levels and attach importance to the individual responsibility, he said, calling for continuous implementation of the project enhancing public awareness and community-based natural disaster risk management approved by the Prime Minister.
He urged localities to review capital sources to increase investment in essential facilities to prevent natural disasters and support search and rescue efforts.
Given the ongoing severe drought and saltwater intrusion in the south-central region, Central Highlands and Mekong Delta, the Deputy PM requested localities to boost communications and guide farmers to use water in an economical way and grow drought-resistant crops.
He reminded ministries and localities to concentrate on specific measures to deal with flood and drought such as reviewing the population in landslide-prone areas, examining and locating key routes – especially those under construction and prone to landslide, and placing warning signs to reduce human and property losses.
It is necessary to maintain effective operation of hydropower reservoirs and irrigation systems to ensure water supply in the dry season, as well as examine dyke networks and arrange capital sources to secure safety for locals in the flood season in the coming years, he said.
The Ministry of Environment and Natural Resources was asked to direct the National Hydro-Meteorological Service to keep a close watch on the weather developments to proactively provide information and update for people while tightening management of businesses operating in agriculture field to prevent them from discharging toxic substances to cause environmental contamination.
Rate of kids suffering bronchial asthma increase in VN
Medical experts of World Health Organization (WHO) said at a meeting yesterday held by the Society of Asthma and Allergy and Clinical Immunology in Ho Chi Minh City and representative office of HCMC GlaxoSmithKline that the rate of Vietnamese kids in the age of 12 and 13 suffering bronchial asthma is highest in Asian region with 30 percent and it is on upward trend.
There has been no medication to cure bronchial asthma. As per WHO, the number of people with bronchial asthma is escalating with estimation of 334 million.
However, only 5 percent of them have received proper treatment.
Approximately 200,000 people die of the disease annually in the world including 3,000 Vietnamese people. Diagnosis of the disease in children is very difficult because the symptom is not very clear consequently leading to late diagnosis and treatment.
Treatment cost for bronchial asthma is becoming a burden for the society.
Dr. Le Thi Tuyet Lan, chairwoman of the Society of Asthma and Allergy and Clinical Immunology in Ho Chi Minh City said that bronchial asthma is a hereditary disease, influenced by living environment and atopy giving advice that asthma patients should avoid the foods causing allergy and cold food.
Dr. Lan warned patients not to buy medicine without doctor's prescription to avoid allergy.
S.Korean folk paintings on display in Hanoi
The Korean Cultural Centre in Hanoi has announced that it will hold an Exhibition of an Old Seoul and South Korean Folk Paintings to celebrate the tenth anniversary of its operations.
The exhibition will take place from May 18 to June 17 at 49 Nguyen Du Street, Hai Ba Trung District.
As part of the event, visitors can learn about traditional Korean cuisine and have a chance to cook Korean dishes on their own.
Joint military-civil health services a success: official
An integration programme on military – civil medical services has created an extensive network of healthcare services and disease prevention and consolidated the country's healthcare system at the grassroots over the past ten years.
Speaking at the fifth conference on military – civil medical service integration in Hà  Nội on Tuesday, Deputy Prime Minister VÅ© Đức Đam highlighted the programme's contribution to people and soldier's healthcare in remote, mountainous, border and island areas, along with protection and poverty reduction, in important defence and security regions of the country.
Đam said that the health and defence ministries should work closely in developing strategies for further consolidation of a healthcare system at the grassroot levels in border and island areas.
Along with infrastructure and facility investment, it needed to pay more attention to health and human resources and to expand effective models in the country's weakest localities such as mountainous, remote, border and island areas.
The Deputy PM said that military hospitals not only performed traditional tasks of people's healthcare and protection, disease and disaster prevention, but also provided medical services to local residents.
He suggested that the two ministries should promote the programme's advantages in victim search and rescue during disasters and other emergency situations.
Deputy Health Minister Phạm Lê Tuấn said that in the near future, the programme would implement measures to develop a healthcare system at the grassroots level while ensuring military health services.
The programme would focus its activities on providing needy people living in difficulties and key defence and security areas more access to quality healthcare, and promote the health sector's abilities to respond to emergency situations, Tuấn said.
Tuấn said that the programme contributed to the country's socio-economic development and defence and security consolidation from 2005 to 2015.
A network of 152 military – civil health clinics were established at border guard stations along the country' border lines. Besides providing medical services, military medical staffs also participated in implementation of national health programmes such as immunisation, malaria and malnutrition prevention, population and family planning, according to Tuấn.
"Six health clinics were set up with modern facilities, especially operation rooms with telemedicine systems established in Bạch Long VÄ©, Phú Quý, and Thổ Chu islands," Tuấn said.
The health ministry reports that the programme has an improved capacity of 529 commune health clinics nationwide with a total investment of more than VNĐ420 billion (US$18.7 million) during the past ten years.
Under the programme, more than 23 million residents were provided free health check-ups while more than 65,000 soldiers received medical services by civil doctors.
On the sea and island areas, military medical force also provided rescue services to over 6,641 people, including 1,885 soldiers and 4,756 residents.
The defence ministry has appointed helicopters to send 62 injured and sick patients from the island to the mainland for emergency service and treatment.
Hanoi set to clamp down on waterways traffic violations
Stricter punishments are needed for violations of waterway traffic safety, illegal mineral exploiting and dyke safety in Hà  Nội, said Nguyễn Thế Hùng, deputy chairman of the Hà  Nội People's Committee in a conference held on Tuesday in the capital.
Speaking at a conference assessing results of an inspection on the issues in the city, Hùng said that if strict measures were not taken, violations would increase and become more serious and.
In the future, the Hà  Nội Police will be key in checking and fining violators related to waterway traffic safety. The police should act as advisors for the municipal people's committee to help the committee ensure traffic safety, he said.
Nguyễn Xuân Hải, deputy director of the Hà Nội Department of Dyke Management and Flood Control, said that the most serious problem at present was construction firms gathering materials near the dyke systems, affecting safety.
By the end of last month, the city had more than 200 construction materials gathering grounds, which were about 200ha, along the Hồng (Red), Đuống and Công rivers in 16 districts and towns of the city. Only 35 of them were licensed.
Nguyễn Văn Hùng, deputy director of the Hà Nội Department of Natural Resources and Environment, said that another problem was companies illegally sucking sand from the river bed using a pump at bordering areas of districts causing difficulties for inspection.
Kiều Quang Phương, head of the Ba Vì District Police, said that the police at present lack specific tools and vehicles to check boats and ships. The police also did not have ship drivers or have places to impound vehicles.
In March and April this year, the municipal police fined more than 4,900 waterway traffic safety violators to the tune of more than VNĐ2 billion (US$88,800). The police also worked with traffic inspectors to fine more than 200 people for illegally exploiting sand and soil, according to the Hà Nội police.
Metropole hosting Les Arômes Festival 2016
The Sofitel Legend Metropole Hanoi is holding Hanoi's Les Arômes Festival 2016 from April 29 to June 4.
This year's festival, the ninth at the Metropole, kicked off on April 29 at La Veranda with a wine dinner featuring Craggy Wines from New Zealand and will be followed by La Nuit by Sofitel on May 27, a night of glamour at Angelina restaurant and lounge, and then conclude on June 4 with a wine dinner featuring Bordeaux's famous Domaine de Chevalier at L'Orangerie.
Headlining this year's event is Chef Christophe Grilo, a 38-year-old executive pastry chef and baker who has cooked for Hollywood stars such as Brad Pitt, Arnold Schwarzenegger, and Barbra Streisand.
Chef Grilo will conduct a "Bread Master Class" on May 19, by invitation only. On May 20 the Metropole will introduce the Chef's new bread collection at its dining venues and will begin retailing the collection at L'Epicerie. One night later Chef Grilo will help "Uncork the Summer" at Les Arômes' special picnic dinner at La Veranda, featuring wines by Chateau Grand Verdus. With live jazz music, a bread counter, and a cold cuts station, this will truly be a unique summer night to remember.
Country enters storm season with 9-11 hurricanes this year- weather forecast
Weather began changing from dry season to rainy season in recent days, marking signals of this year's incoming storm season in the country, said deputy director of the Hydrology Meteorology Forecast Center of the southern region Dang Van Dung in a talk with Sai Gon Giai Phong reporters.
Mr. Dang Van Dung said although the first medium to heavy rains have appeared in some places of Ho Chi Minh City and southern provinces since midweek of April, the long-lasting extreme heat wave still last on the large scale.
According to forecast center, dry and hot weather will be able to drop in HCMC and southern region from now to the end of May as the rainy season is starting hitting the southern region, he said.
The temperature will not increase higher than that in the same period of last year when the highest temperature in the southeastern region was measured at 38- 39 degrees Celsius and in southwestern region at 36- 37 degrees Celsius, he added.
This year's rainy season is forecast to happen nationwide since May. The first rains will come early to provinces of Kien Giang, Ca Mau, Binh Duong, Binh Phuoc and Dong Nai. Meanwhile, the rain could hit Ben Tre and Ba Ria- Vung Tau later than some places at least 10 days because of the influence of southwestern monsoon.
According to weather forecast, this year's rainfall will increase more than last year. Around 9- 11 storms and tropical low pressures will enter East Sea, including 4- 5 storms affecting directly to Vietnam from August to October.
HCM City to ease traffic load
HCM City authorities are taking several measures to ease traffic congestion at the city's main gateways, including widening of a section of National Highway No 13 and the construction of an underground tunnel.
The section of National Highway No 13 will be expanded, starting from Bình Triệu Bridge in Thủ Đức District to Bình Phước Crossroads, according to the city's Department of Transport.
To reduce traffic jams on the highway, the Transport Department plans to erect two temporary bridges for motorbikes besides the existing Ông Dầu Bridge, said Ngô Hải Đường, head of the department's Road Transport Operation and Management Division.
The department has already built two U-shaped bends under flyovers at Thủ Đức intersection, creating favourable conditions for vehicles to turn and easing traffic pressure.
A road parallel to Hà Nội Highway has also been built, and a section of the highway is scheduled to be completed in the third quarter, Đường said.
The completion of the parallel road and Thủ Đức and Bình Thái intersections is expected to ease traffic congestion at the eastern entrance of the city.
In the third quarter, construction will begin on an underground tunnel at An SÆ°Æ¡ng Intersection, the northern gateway of HCM City.
The new tunnel will help reduce traffic congestion at the intersection.
Besides Thủ Đức and An Sương, traffic congestion in areas near Tân Sơn Nhất International Airport has been a problem for decades.
To ease congestion, a consortium comprising Đông Mê Kông Trade, Production and Construction Service Ltd. and VIG Investment Co. Ltd. plan to build a flyover and an underground tunnel at the Trường Sơn Intersection in Tân Bình District.
It includes two sub-projects, one of which is a Y-shaped flyover connecting Trường SÆ¡n Street with the airport's international and domestic terminals.
The other sub-project will build an underground tunnel under Trường Sơn Street, running from the entry of the domestic terminal to Hồng Hà Street.
With a total investment of VNĐ760 billion (US$34.1 million), the tunnel project will be implemented under the Build-Transfer (BT) investment form.
The roads to entrances to Tân Sơn Nhất Airport, especially at peak hours, are plagued with traffic jams, affecting connections between Tân Sơn Nhất and HCM City roads.
Tra Vinh expands biogas composite model
As many as 700 farming households in the Mekong Delta province of Tra Vinh will receive aid to install biogas tanks.
This is part of a project developed by the Centre for Rural Communities Research and Development and the provincial Gardening Association.
Each household participating in the programme will receive 1.5 million VND (70 USD) and be provided with a loan of 6 million VND (280 USD) for each biogas tank.
The construction of a 6-cubic-metre tank costs about 10.5 million VND (490 USD) while those of 8-cubic-metre tank and 10-cubic-metre tank cost 12.5 million VND (580 USD) and 14.5 million VND (670 USD), respectively.
Since 2014, under a biogas development project designed for the Mekong Delta region, Tra Vinh has installed over 1,400 biogas spherical tanks, said Chairman of the provincial Gardening Association Le Van Be.
The tanks are durable, productive, economically efficient and environmentally-friendly, helping to reduce environmental pollution and conserve energy.
Hospital to provide free asthma checkups
The Bạch Mai General Hospital will provide free check-ups and consultations, as well as free medicine, to newly diagnosed asthma patients on May 21, in recognition of Global Asthma Day.
Residents of Hà Nội and neighbouring areas suffering from coughing, respiratory problems and chest pains may register for appointments by calling 04.36291207/0972463203 or emailing [email protected]
Recent health sector statistics have noted that Việt Nam has some 3.5 million asthma patients, equivalent to 4 per cent of the population. The disease places a significant burden on patients and their families, due to costly treatments and fatalities.
Operating under the theme, You can control your asthma, the annual event, organised by the Global Initiative for Asthma (GINA), seeks to increase asthma awareness and care throughout the world.
Asthma, a chronic lung disease, is a noncommunicable respiratory disease that affects more than 300 million people worldwide. It is characterised by recurrent difficulties with breathing, including symptoms such as shortness of breath, wheezing, tightness in the chest, and coughing.
Carlsberg Vietnam donates VND10 billion to central fishermen
Carlsberg Vietnam has officially kicked off a charity campaign to donate VND10 billion ($500,000) to all fishermen in seven provinces in the central of Vietnam, which have been seriously impacted by the recent mass fish death.
Those provinces include Nghe An, Ha Tinh, Quang Binh, Quang Tri, Thua Thien-Hue, Danang and Quang Nam as well as help the locals do the clean-up at beaches.
The incidents of massive fish die-off along Vietnam's central coastal provinces are making fishermen's lives are more and more difficult. Understanding truly the tough situation currently, Carlsberg Vietnam is taking action immediately and working closely with local authorities of these provinces to provide rice, noodles and cooking oil to help the local people overcome this hard time.
Ha Tinh was the first destination of this charity donation campaign and Carlsberg Vietnam will continue move to other provinces to support the local people there.
"I was in Ha Tinh, Nghe An and Hue beaches a few days ago and saw how the fish death is impacting peoples' lives. As you know, Huda's tagline is "ĐẬM TÌNH MIỀN TRUNG" – Central Pride Runs Deep which means that we always stand by the central region," said Tayfun Uner, CEO of Carlsberg Vietnam. "We are now working with authorities to get permission to make a charitable donation of VND10 billion to the worst hit across these provinces. Each of the 2,800 Carlsberg Vietnam employees has made a voluntary contribution, donating 1 day of salary towards this effort and will be working on beaches to do the clean-up together with local people."
Carlsberg is one of the first Danish multi-national companies to enter Vietnam and made its first investment in 1993. For the first 20 years, Carlsberg managed its Vietnamese operations through Carlsberg Indochina. In 2012, a fully dedicated Carlsberg Vietnam organisation was established with three offices and breweries in the north, central and south of Vietnam. Carlsberg Vietnam's brands include Carlsberg, Tuborg, Huda Gold, Huda, Huda Cool and Halida.
VNA/VNS/VOV/SGT/SGGP/TT/TN/Dantri