One Pillar Pagoda receives Asian records
Hanoi's famous One Pillar Pagoda received the Asian Records Organisation's (ARC) recognition as having the most unique architecture on the continent on November 12.
Originally dubbed Dien Huu, which means long-lasting happiness and good luck, the pagoda was built in 1049 on the orders of King Ly Thai Tong.
It was constructed from wood on a single stone pillar 1.25m in diameter and 4m high and resembles a lotus blossom, the Buddhist symbol of purity.
Responding to the ARO's official recognition on November 12, Most Venerable Thich Duc Nghiep, Deputy
Secretary General of the Vietnam Buddhist Sangha (VBS), said the ARC's recognition greatly honours the VBS, its
followers, and the Hanoian people.
The pagoda's head, Most Venerable Thich Tam Kien, vowed to restore the pagoda and promote its intangible value.
A series of conferences, including consultations with scientists and related agencies, will be held to ensure the pagoda's original and unique cultural value is comprehensively preserved, the monk concluded.
Indian rockers Boomarang to perform in Ha Noi
Boomarang, one of the top rock bands in India, are staging a concert in Ha Noi to celebrate the Indian festival of Diwali on November 17, at the American Club.
Formed in 2005, the four-member band has a large following of rock music lovers in India. The band has managed to carve out their own distinctive identity on the Indian rock scene with their unique take on the rock'n'roll. Their brand of music is best described as a blend of blues and hip hop spiced with a lot of nu-age metal, a sound that the band describes as "junk rock".
Rolling Stone Magazine included them in the Top 10 Indian artists to watch out for in 2009. They have travelled to many places to perform and won a number of awards, including the Nokia Lords of Music title in 2010 and the Band of the Year award in 2009 and 2010.
Diwali Night, where the band is scheduled to perform, will start at 5.30pm on November 17 at the American Club, 19-21 Hai Ba Trung Street, Ha Noi.
Tickets cost between VND50,000 for children and VND200,000 for adults.
The festival, organised by INCHAM (Indian Chamber of Commerce in Viet Nam) will also feature Indian and international delicacies.
Indian Ambassador Ranjit Rae is also set to officially launch the band's self-titled debut album Boomarang in Viet Nam during the festival in Ha Noi.
Nutcracker returns to HCM City
The famous ballet, The Nutcracker, will be staged by the HCM City Ballet and Symphony Orchestra and Opera (HBSO) for three nights in HCM City, beginning this Sunday.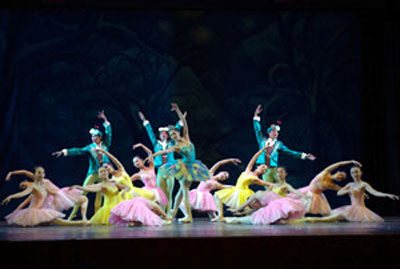 Fancy: Dancers from the HCM City Ballet and Symphony Orchestra and Opera
rehearse for The Nutcracker, to be staged tomorrow at the Opera House.
— Photo Courtesy HCM City Ballet and Symphony Orchestra
The ballet, first performed in Russia in 1892, has two acts. It was originally choreographed by Marius Petipa and Lev Ivanov with a musical score provided by the legendary Tchaikovsky.
It was adapted from The Nutcracker and the Mouse King, a story by German author ETA Hoffmann.
The ballet is based on the dream of the little girl Clara and her adventures with a nutcracker, a gift from her godfather.
The Nutcracker has grown in popularity since the mid-20th century and is now performed by ballet companies worldwide, especially during the Christmas season.
The choreographer is Norwegian Johanne Jakhelln Constant, the art director of the Moving Art Theatre in Bodo, Norway. She worked with HBSO to premiere the ballet in HCM City last year.
This time she and her peer, Norwegian conductor Magnus Loldgard of the Ensemble NeoN, have worked with HBSO musicians.
The two-act work will feature ballet stars like Diem Trang (played Clara), Ho Phi Diep (Prince), Minh Tu (Snow Queen), and Duc Nhuan (Hr. Drosselmeyer).
A graduate of Oslo's Fagerborg Dance School and the Stockholm Dance University, Constant has a master's degree in performance from Iowa University in the US.
She has worked with famous ballet teachers like Francoise Martinet, Fernando Bujones, Laura Alonso, and Edward Ellison.
She has spent many hours a day with her Vietnamese assistants, choreographers Ta Quang Hung, Nguyen Phuc Hung and Diep, to reinvent the performance, both in choreography and staging.
Performances are at 8pm on November 9 and November 16 and 18 at the Opera House, 7 Lam Son Square, District 1.
The Norway Ministry of Foreign Affairs, the Norwegian Embassy and Music Information Centre Norway all sponsored the event.
Tickets cost VND250,000 (US$11), 350,000 and 500,000, and are available at the theatre.
Live broadcast connects Vietnam and RoK
"Time-honoured friendship" programme will be live broadcast on VTV1 channel on November 13.
Spectators will have the chance to meet martyr Dang Thuy Tram's mother, Doan Ngoc Tram, Hwang Min Woo, a Vietnamese-Korean famous for his Gangnam Style clip and the SNSD girl band from the RoK.
The show, organized by Vietnam Television (VTV) and the Korean Broadcasting System (KBS), marks the 20th anniversary of diplomatic relations between Vietnam and the Republic of Korea (RoK).
Climate change programme targets children
A campaign entitled Raising Awareness on Climate Change and Energy Saving For Primary School Children was launched at Ha Noi's Doan Thi Diem Private Primary school yesterday.
The programme is a joint effort by the Embassy of Denmark in Viet Nam with the Ministry of Industry and Trade and the Ministry of Natural Resources and Environment to raise environmental awareness among children through puppet shows.
There will also be a photo contest where children are invited to capture moments of them conserving energy and protecting the environment. These photos will be displayed in an exhibition held in March 2013 as part of Earth Hour.
At the launch, Martin Lidegaard – Danish Minister for Climate, Energy and Building, said: "We believe that environmental and energy saving consciousness should begin at a young age. With the support of the Vietnamese Government and various international organisations, we are positive that this educational programme will inspire our children to take action and limit the negative impacts of climate change."
The awareness programme was tailored to school children based on an earlier survey conducted on pupils in Ha Noi. It serves to educate the future generation on the challenges of climate change and possible steps to minimise its impact on the environment.
The programme will travel to 10 primary schools in Ha Noi. There are also plans to develop this into an annual nationwide programme in the long run.
With Little Princess as the main character in the puppet show, children were taken on an odyssey to save her kingdom, and encouraged to use energy efficiently in their daily lives.
Ukrainian culture on display at HCM City Opera House
A festival to celebrate Ukraininan culture began in HCM City last night with an opening ceremony at the Opera House.
Visitors to Ukraine Cultural Days enjoyed a musical performance by the Symphony Orchestra of the National Academy of Ukraine, G.Veryovka National Academic Folk Choir, and several other famous Ukrainian artists.
There will be an exhibition of photographs featuring images of Ukraine and its people from November 9 to 13 at the City Exhibition Hall in Le Thanh Ton Street.
On Sunday there will be a show of folk dances and music at the Vietnam-Japan Labour Cultural House in Ha Long City in Quang Ninh Province.
There will be a repeat performance at the Ha Noi Opera House next Tuesday.
According to the Ministry of Culture, Sports and Tourism, the event is part of a cultural exchange between Viet Nam and Ukraine in 2010-12.
Traditional music, martial arts performed in France
A show of Vietnamese traditional music and martial arts entitled Me va Bien Ca (Mother and Sea) was held in Orsay, France, on November 11.
The show, organized by the Vietnamese-Orsay traditional cultural and music association (OCTAVE), attracted a large number of overseas Vietnamese in France and foreigners.
It is about a Vietnamese widow who left the homeland for France and has devoted her whole life to the bringing up and education of her two daughters.
The non-professional artists played traditional musical instruments with Nguyet Anh, chairwoman of OCTAVE, as the soul leader of the orchestra.
Nguyet Anh said this was an act of charity for underprivileged children in Vietnam.
The association has organised Vietnamese language and cooking classes for many foreigners to fund scholarships for Vietnamese pupils and students in extremely difficult circumstances.
Established in 2007, OCTAVE now has 50 members, of whom 30 are French.
Child prodigy to perform at Arts for Mobility exhibition
Kids First Enterprise (KFE) will present the fifth annual Arts for Mobility art exhibition and concert, featuring child prodigy violinist Do Phuong Nhi from Ha Noi, along with the Ha Noi Philharmonic Orchestra.
KFE will feature performances by members of the music department at Sai Gon South International School as part of their effort to support the arts.
The event aims to enable 200 poor and disabled people get productive jobs, be included in the community, and become self reliant and have economic independence.
The Art for Mobility Exhibition and Concert will take place at the HCM City's Opera House, 7 Cong Truong Lam Son, District 1 on November 17. The programme includes the art exhibition (6.00pm-7.30pm) and a silent auction featuring local artist Concert (7.30pm-9.30pm).
Ticket costs VND500,000 (US$25). Wine, tea, water, beer and hors d'oeuvres will be served during the art exhibition and silent auction from 6.00pm to 7.30pm.
For information or to reserve your seat, contact Roger at 0903 365 720 or email [email protected]
VNN/VOV/VNS