HCM City hosts battle of the bands
(14-04-2007)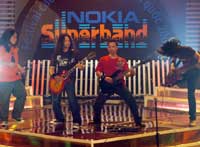 Aural sunburn: Rockers Mat Troi Do (Red Sun) let loose at the National Festival for Music Bands in HCM City. — VNS Photo Thanh Vu
Fifteen bands rocked out at last night's final prelimi nary round of the 2007 National Festival for Music Bands in HCM City.
Popular groups like Hoi Tuong (Remembrance), Thuy Trieu Do (Red Tide) and Titanium are vying for the top prize of the competition, organised by the Ministry of Culture and Information's performing arts office, the city's Department of Culture and Information, and HCM City Television (HTV).
One of the up-and-coming groups, heavy-metal band Red Tide, based in Ha Noi, should be a strong favourite. The five-member band has released two CDs, Nang Moi (Sunshine) and Sau Con Mua (After the Rain), to popular acclaim.
Another band, Cuoc Songs, hopes its music and performance will set a trend in a music industry that is dominated by pop and dance styles.
Cuoc Songs' four members, aged 17 to 20, are worried about how their songs will fare at the competition but are willing to attempt something new.
"The festival gives rockers a chance to introduce ourselves to the public, and create a new trend that both critics and audiences will like," said one band member.
Most of the bands will perform their own works, which often focus on global themes like war and peace, the environment and humanity.
Unlike the hard rock music performed by many of the bands, four groups will feature pop, jazz and flamenco styles that may not be as appealing as the shock rock from Cuoc Songs and its peers.
With more than 10 years of performing, Chau Flamenco in HCM City might be the the likeliest candidate for the Veteran Band Award. The band has performed in many hotels and restaurants around the city.
The final preliminary round took place in the HTV auditorium on Dinh Tien Hoang Street. The contest will conclude on May 6 when four finalists will compete for top prizes. Two top bands would be sent to perform abroad, according to organisers. —VNS